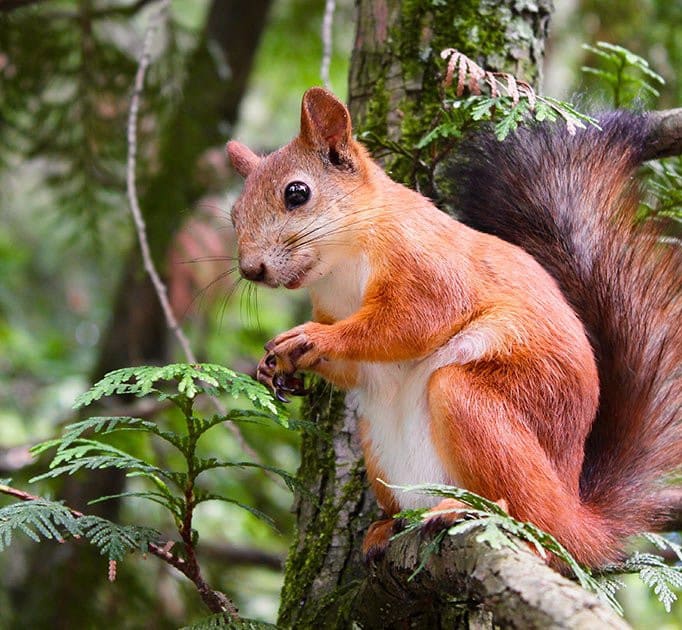 Protecting the Red Squirrel
Red squirrels are one of Scotland's most loved animals, and they are our only native squirrel species but populations have seriously declined, with only around 120,000 remaining in Scotland today.
In some places they have not been seen for many years. The greatest threat to the red squirrel's future in Scotland is the invasive non-native grey squirrel. Larger and more robust, grey squirrels out-compete red squirrels for food and living space, making it difficult for red squirrels to successfully breed and for their young to survive. When grey squirrels move into a new area, red squirrels can be completely replaced within 15 years. However, there are still many places you might find red squirrels including here amoungs the woodlands of Argyll.
If you are visiting the area then you can help.
How to help
Saving Scotland's Red Squirrels have been in operation since 2009 working hard to ensure red squirrels continue to have a home in Scotland. Their efforts are making a difference and in many project areas red squirrels are already beginning to make a comeback.
With the help of volunteers, they are monitoring red and grey squirrel numbers across the country, managing the spread of grey squirrels in strategic areas, and inspiring community action to ensure the long-term survival of our native species.
Saving Scotland's Red Squirrels, would appreciate any squirrel sightings you might make whilst visiting the area are reported to their website. And are interested in both red and grey squirrel sightings nationwide so they may be able to assess their activity and numbers.